How to Screen Tenants for a Rental Property
Finding and keeping good tenants in your properties is crucial to owning rentals. However, it's hard to determine which tenants will be good or bad without a thorough screening process. Screening tenants can help you find tenants who will care for your properties and avoid those with a poor rental history or prior evictions. Today, we'll go over how to screen tenants and important questions to ask during the screening process. 

Contents of This Article: 
What Is Tenant Screening?
Tenant screening is the process of evaluating and assessing potential tenants before approving them to rent a property. The process involves asking questions and gathering information about the applicant to determine their suitability as a tenant. Knowing how to screen tenants is crucial to minimize risks and protect the interests of landlords and property managers in Fairfax.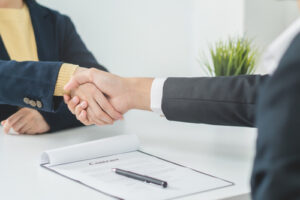 A typical tenant screening process examines a prospective tenant's rental application, creditworthiness, employment and income, background check, rental history, and references. Although a thorough screening process takes time, it's a crucial step for landlords to find qualified, reliable tenants. 
Next, we'll review how to screen tenants fairly and effectively while complying with Fair Housing Laws.
How to Screen Tenants Fairly and Effectively
It's crucial to stay mindful of fair housing laws while screening tenants to avoid discriminatory practices. The Fair Housing Act prohibits discrimination in housing based on certain protected characteristics. For instance, it ensures equal access to housing opportunities for all individuals, regardless of race, color, religion, sex, national origin, familial status, or disability.
Landlords and property managers involved in housing transactions must understand and comply with the Fair Housing Act to ensure fair and equal treatment for all individuals seeking housing. As such, here's how to screen tenants fairly and effectively. 
Treat All Applicants Equally-

To promote fairness, treat all applicants with equal respect and consideration, regardless of their background or personal characteristics.

Use Consistent Criteria-

Establish clear and consistent screening criteria you can use for each applicant. Consistency helps ensure transparency and avoids any perception of discrimination.

Consider Property Management-

If managing the screening process becomes overwhelming, consider hiring a professional property management company to handle tenant screening. They have the expertise and resources to carry out thorough screenings effectively.
What to Look For in a Prospective Tenant
Researching a tenant may be time-consuming, but it's a crucial part of owning rental properties. That said, there are several things to look for in tenants to determine if they meet your criteria. Some of the most important factors include the following. 
Steady Income

Solid Creditworthiness

Clear Criminal Background

No Eviction History

Valid References
Steady Income
You'll want to ensure that the tenant has a consistent and reliable source of income to cover the rent and other financial obligations. This helps ensure that they can make timely payments without financial strain. Verifying their employment status, income stability, and debt-to-income ratio can give you insight into their ability to meet financial responsibilities and pay rent on time. 
Solid Creditworthiness
Assessing the applicant's creditworthiness provides valuable information about their financial history and responsibility. As such, reviewing their credit report can reveal their payment history, outstanding debts, and credit score. Ultimately, a good credit history indicates that the tenant meets their financial obligations, which is a good sign that they'll pay rent on time.  
Clear Criminal Background
Conducting a background check helps identify any criminal history that may pose a risk to the property or the safety of other tenants. After all, it's crucial to ensure the community's well-being and maintain a safe living environment for all. So, look for any convictions related to violent crimes, drug offenses, property damage, or other offenses that may impact the tenant's ability to abide by the lease terms. 
No Eviction History
Checking for any eviction history helps give insight into the applicant's rental history and ability to follow lease obligations. That said, a history of evictions can suggest potential issues with non-payment, property damage, or disputes with previous landlords. Selecting tenants with no eviction history reduces the likelihood of similar issues in the future. 
Valid References
Contacting the applicant's previous landlords and personal references can give valuable information about their rental history and what they're like as tenants. For instance, previous landlords can provide more information about their payment history and adherence to the lease terms. On the other hand, personal references can give additional perspectives on the applicant's character, responsibility, and compatibility as a tenant. 
Important Questions to Ask During a Screening
Now that you know what to look for in a prospective tenant, you may have additional questions to determine whether they'll be a good tenant. After all, the goal is to find a tenant that will care for your rental, pay rent on time, and follow lease terms. 
However, sometimes relying on the basic information in an application or initial screening process isn't enough to get a realistic picture of the potential applicant. So, take the time to ask some open-ended questions that can help you make a final decision. Here are some of the categories to pay attention to and questions that can help you better understand your prospective tenant. 
Personal Information

Employment and Income

Rental History

Credit and Financial Information

Personal Habits and Lifestyle

Maintenance and Responsibility

Additional Questions
Personal Information
What is your current address?

How long have your lived at your current address?

Why are you moving?
Employment and Income
Where do you work, and how long have you been employed there?

What is your monthly income? 

Can you provide proof of income, such as pay stubs or bank statements?
Rental History
Have you rented before? If yes, can you provide contact information for your previous landlord?

How long did you live at your previous rental?

Did you fulfill your lease obligations?

Have you ever been evicted?
Credit and Financial Information
Can you provide consent for a credit check?

Do you have any outstanding debts or collections?

Have you ever declared bankruptcy?
Personal Habits and Lifestyle
Do you have pets? If yes, what kind and how many?

Do you smoke?

How many people will be living in the rental?
Maintenance and Responsibility
Are you willing to maintain the property and keep it clean?

Do you have any experience with basic home repairs?

Are you familiar with the rules and regulations regarding the property?
Additional Questions
When are you looking to move in?

Can you provide a security deposit and the first month's rent upfront?

Do you have any questions about the property or lease agreement?
Find Qualified Leads With Property Management
Knowing how to screen tenants fairly and effectively is a crucial aspect of owning rental properties. Looking into their financial and rental history can help you determine whether or not they're qualified to live at your property. That said, a thorough screening process can be tedious and time-consuming, which is why many busy rental owners hire comprehensive property management. 
A full-service property management team can help you save valuable time by marketing rentals, screening prospective tenants, drafting lease agreements, collecting payments, maintaining properties, and more. 
Bay Property Management Group has the knowledge and expertise to find the best tenants for your rental properties. We work with property owners in and around Baltimore, Philadelphia, Northern Virginia, and Washington, DC. Contact BMG today to learn more about our services and how we can help your rental business succeed.